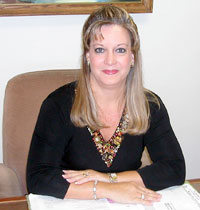 Donna has been with SPC for 22 years. She began working with her father, Jerry Putman, who was the founder and previous owner. Donna's background is in fashion merchandising, retail management, real estate renovations, and rental property management. Donna and her husband, Fairren, together own and operate SPC. Donna is a graduate of the Virginia Pest Management Association WDI Inspector Course. Donna has two children, two stepchildren, two daughter in-laws and two grandchildren. This family enjoys boating, fishing, vacationing together and sports. Donna is a lifelong resident of Suffolk.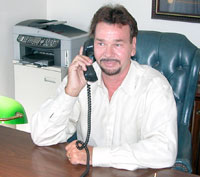 Fairren and his wife Donna purchased Suffolk Pest Control in January of 2000. Fairren's background began with an insulation company, Nansemond Insulation Company, that he owned and operated in 1978. Nansemond Insulation Company soon became Nansemond Exteriors Inc. specializing in replacement windows, siding, trim and gutters. Fairren is a graduate of the Virginia Pest Management Association WDI Inspector Course. Fairren is the father of three sons, two stepsons, and two grandchildren. Fairren and his son's are big baseball fans. They all love the New York Mets. He enjoys fishing and boating. Fairren is a lifelong resident of Suffolk.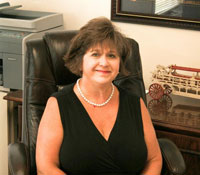 Kathy came to us with a banking and real estate background. She handles scheduling, billing and customer service for the company. She and her husband Larry live in Carrsville. Together they have four sons and a daughter. In her spare time she enjoys antiqueing, gardening and reading. Kathy's knowledge of the real state market is invaluable to us and our real state agents that use us for their inspection reports. We are delighted to have Kathy working with us.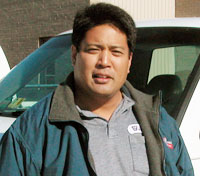 Rex has 21 years of expericence in the pest control industry. He has 15 years with Suffolk Pest Control. Rex has also been employed by Superior Termite and Terminix. He is certified by the VA Department of Agriculture and Consumer Services in Categories 60 (registered technician), 7-A (general pest control), 7-B (wood destroying pest control), and 7-C (fumigations). He is also a Virginia Pest Management Association Certified WDI Inspector and a VPMA Certifies Master Technician. He is a big Pittsburgh Steelers football fan. He enjoys fishing, cars, and playing the guitar. Rex attended Tidewater Community College. He is single and resides in the city of Suffolk. We are fortunate to have him with us.