Termite Extermination & Control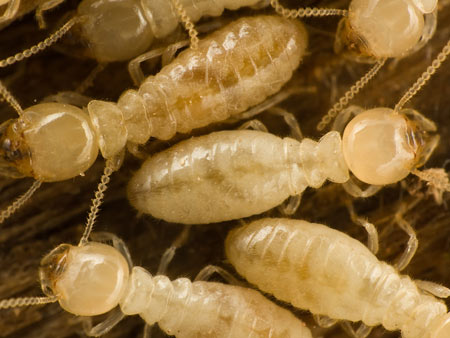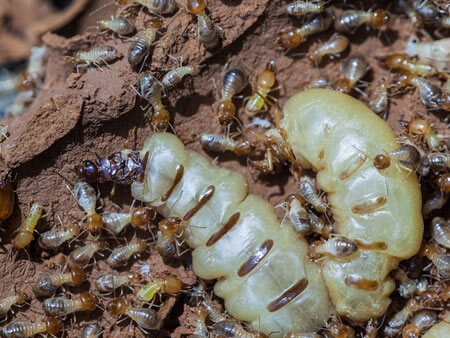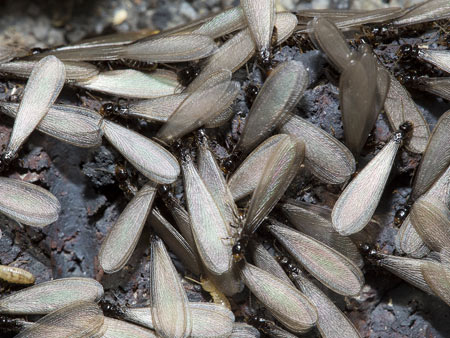 Termite Control & Control Experts
Suffolk Pest Control Inc. has decades of experience in treating and controlling subterranean termites in residential and commercial properties throughout the Tidewater/South Hampton Roads areas of Virginia. SPC was founded in 1982 and has been in business for over 37 years. We are among the top termite extermination companies in South Hampton Roads.

For most people, their home is their most valuable investment. Our goal at Suffolk Pest Control is to help our customers protect their investment by offering a courtesy reminder call each year to customers who are due for an annual inspection or an annual warranty treatment renewal.
We understand that most people don't crawl under their home, that's our job. We call to make sure that they don't forget it's time for their inspection. If you have an inspection every year, you are less likely to have costly repairs due to a termite infestation.
Our Service Area
Suffolk Pest Control provides termite treatment and control services to the following Southeast Virginia communities: Suffolk, Isle of Wight, Carrollton, Rescue, Ivor, Sedley, Wakefield, Elberon, Dendron, Surry, Franklin, Courtland, Newsoms, Boykins, Capron, and surrounding areas.
Termite Treatment Guarantee
Suffolk Pest Control offers a one year warranty on all termite treatments with the option to renew each year.  If a re-infestation occurs, a re-treatment will be completed at no additional cost.  Our warranty is also renewable each year accompanied by and inspection and warranty renewal fee.
Online After Business Hours?
Suffolk Pest Control is open Mon-Fri 9AM to 5PM. Call 757-934-2223 If you think you may have a termite or other pest problem. If you're browsing this page after hours, complete the form below to have a customer representative contact you the next business day.
Our Primary Termite Treatment Product - Termidor SC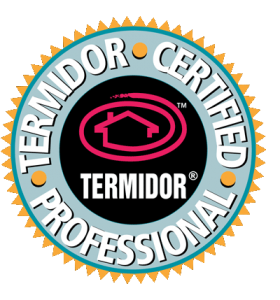 The most effective form of treatment and control is a liquid soil treatment using Termidor SC. The treatment objective is to treat the soil under the house where the termites must travel to reach the home.
The #1 termiticide on the market is Termidor SC. Suffolk Pest Control uses only Termidor SC for all methods of termite treatments.
This method requires holes to be drilled into the foundation wall every foot or every other cement block of a foundation wall. Termidor SC is injected into the holes and drains down into the foundation soil.
This treatment provides a chemical barrier that if broken by termites, they die within days. The chemical works like a disease where the "infected" termite transfers the chemical to every other termite that it comes in contact with.
Three Methods of Termite Control Treatment:
Treatment Method #1 treats homes with a crawl space by drilling and chemically treating the foundation wall and the soil beneath it with Termidor SC.
Treatment Method #2 is called Trench and Rod. This treatment is mostly used on homes that have a slab foundation with no crawl space. This treatment requires digging a 6 to 8" trench around the foundation and then filling it with Termidor SC which seeps into the ground around it.
Treatment Method #3 is a combination  treatment using a rod to get the chemical closer to the center of the house. A long rod is attached to the chemical pump and additional Termidor SC chemical is pumped under and around the center of the house.
In addition all piers and any wood to ground contact would be treated by the #2 method with trenching and chemical treat. Digging a 6-8" trench around each pier or any wood to ground contact and filling the trench with termiticide. If the crawl space has sand, no digging will apply. The chemical will be concentrated around the base of each pier or wood to ground.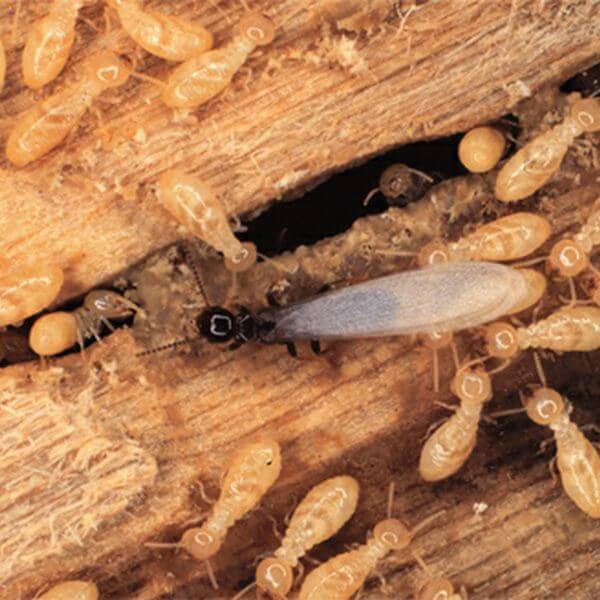 Termites: Description and Habits
Simply stated, a termite is an insect that destroys wood by eating it, essentially turning solid wood into a pulpy waste product. This has the effect of destroying the wood structurally and, if left untreated can result in tremendous structural and aesthetic damage to homes, businesses, and outbuildings.
There are actually three primary types of termites - Damp Wood Termites, Dry Wood Termites and Subterranean Termites.
In Virginia, the termite responsible for the largest amount of structural damage are the Subterranean Termite. They like moist environments, and are frequently found living in the soil around building foundations before attaching to the wood in the under-structure or crawl space.
Termites cause an estimated $5 Billion in damages each year according to the National Pest Management Association. One colony of termites can eat several pounds of wood in the span of a few months.
Termite Prevention
There are a couple of very important things you can do right now to prevent a termite infestation so you never have to get to the point of requiring termite removal.
Eliminating Moisture Keeps Termites at Bay
Drastically reducing or eliminating as much moisture as possible in and around your home or outbuilding will deprive termites of the moisture they need to survive. The wetter your building is, the more likely the chance you will require termite control. Having adequate drainage and directing water away from your building is paramount in termite prevention.
Eliminate Ground-to-Wood Contact Frustrates Termites
Maintaining a gap of at least 18-20 inches between the ground and any wood on your building is another important method of preventing termites.
Plan new buildings with a brick or masonry foundation. Where practical, trim back siding and skirting away from the ground, or remove piled up or sloping soil and debris from the foundation of your structure.
Types of Termite Treatments
Chemical Barriers Prevent Termites
A chemical soil treatment is the only barrier that kills and protects a structure from termites. There are no physical barriers that can kill or protect a structure from termites.
Chemical Treatments for Termites
There are a few different types of chemical treatments for termite problems. Because these are regulated by the Environmental Protection Agency (EPA), it is strongly recommended that you call us at Suffolk Pest Control for application of these controls.
The forms of chemical treatments include:
Wood treatments
Termite baits
Pre-treated building materials
Liquid pesticides applied to the soil: SPC recognizes the soil treatment as the only guaranteed method of killing termites
Conventional Soil Barriers to Termites
By far the most commonly applied Termite treatments are barrier treatments applied to the soil under and around the structure. Soil treatment is the longest-lasting and most reliable of all termite barriers.
However, once again, these treatments should only be applied by trained and knowledgeable professionals.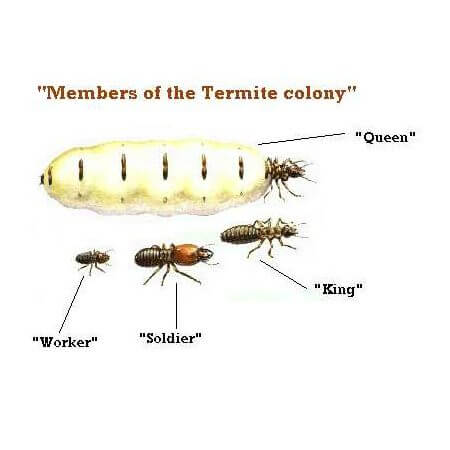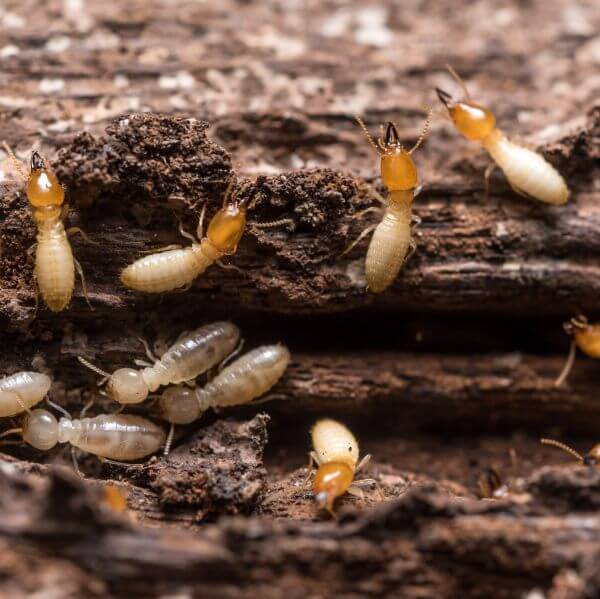 How To Tell If You Have A Termite Infestation?
One of the first signs of termite damage you will notice will be damage to the understructure of your home. Termites can attack any exposed wood, but can also bore around plastic and metal to get to wood that lies underneath. Carefully examining wood that looks to be damaged for signs of termites includes inspecting the foundation walls for termite tubes. This can indicate a fresh colony has just arrived and is setting up shop. Suffolk Pest Control will search for evidence of activity by examining the exposed joists, beams, and wood for termite damage.
Termite Mud Tubes
Termite mud tubes on the foundation walls or interior baseboard and trim are also a good indication that a termite colony exists. Mud tunnels can occur both indoors and outdoors. Mud tubes appear as tunnels made of dried mud that snake along a structure's walls or foundations. Termites use these tunnels as a means of travel for their colony.
Water Damage
If you have a subterranean termite issue, it will often appear through water damage. This type of termite damage is hard to detect at times. If you notice wood that appears to be swollen or buckling in your ceilings or your floors this may be a sign that you have termite damage occurring in your home. This type of infestation needs to be dealt with immediately, the longer you wait, the more costly the repairs will be.
Crumbling or Rotting Wood
Other signs of termite infestation to look for is wood that appears to be crumbling or rotting. This is especially true of wood exposed to the elements or outdoors. If you notice this on your building's deck or walkway, it is a sign of a possible termite infestation.
When there are signs of wood damage, it is a wise decision to call us at Suffolk Pest Control at 757-934-2223 to determine if the problem is termites or a moisture issue.