Virginia Termite & Moisture Inspections – WDI Reports
Trusted Real Estate Termite-Moisture Report Inspections
Suffolk Pest Control has been providing Termite and Moisture Inspections to the South Hampton Roads region for many years. We help facilitate real estate closings for home owners, real estate agents, buyers, and sellers.
Why a termite AND moisture inspection, you may be asking? What does one have to do with the other? The simple answer is that elevated moisture levels in walls, sub-floors, and other wooden structural components of your home are often areas where termite and fungus infestations are commonly found. SPC technicians are equipped with moisture meters that gauge the moisture content in the exposed wood in the under-structure of the home or building.
Our Service Area
Suffolk Pest Control performs termite and moisture inspections in the following Virginia communities: Elberon, Zuni, Boykins, Rescue, Capron, Wakefield, Newsoms, Suffolk, Surry, Carrollton, Smithfield, Portsmouth, Windsor, Ivor, Dendron, Sedley, Chesapeake, Isle of Wight, Courtland, Franklin, and the surrounding areas.
Pest Prevention Guarantee
Suffolk Pest Control offers a one year warranty on all termite and fungus treatments. Treatments are covered by a one year re-treatment warranty with the option to renew each year. If your property becomes re-infested while under warranty, Suffolk Pest Control will retreat at no additional charge.
Suffolk Pest Control, Inc. is honored to have been voted #1 pest control company in The Virginian-Pilot's "Best Of South Hampton Roads" contest by our community thirteen years in a row.
Also voted #1 in the Suffolk News Herald "Locals Choice" contest eight years in a row by our community and our customers.
We are also a member in good standing of the BBB (Better Business Bureau)  with an A rating.

Termite Moisture Forms
Wood Destroying Insect Form NPMA-33 (Example PDF) - Used in Virginia real estate transactions to provide information to the seller and buyer prior to the sale of a property. Reports any infestation of wood destroying insects (WDI) such as termites, powder post beetles, old house boars, carpenter ants and wood-boring beetles. Page 2 refers to the scope and limitations of the inspection and more.
SPC Moisture Inspection Report (Example PDF)
SPC WDI Warranty Form(Example PDF)
Online After Business Hours?
We are the pros to call if you are a homeowner, property manager, or Realtor, and you need a termite inspection company. Suffolk Pest Control is open Mon-Fri 9AM to 5PM. Call 757-934-2223 . If you're browsing this page after hours, complete the form below to have a customer representative contact you the next business day.
Why Choose Suffolk Pest Control?
Suffolk Pest Control Inc. has two ( MASTER TECHNICIANS) the highest level of technician certification in the pest control industry. The average pest control company has no Master Technicians.
Suffolk Pest Control Inc. has been in business for 37 years in a small town. We have a reputation of being honest, dependable, professional and highly educated in the pest control field.
Suffolk Pest Control Inc. remains un-conflicted by refusing to add structural repairs, sand instillation, insulation removal & install, lawn services, animal control and other services that we consider to be a conflict of interest.
Suffolk Pest Control Inc. uses only Termidor SC to control termites. We believe that a liquid soil treatment is the ONLY way that you can guarantee the control of termites. There are many other forms of treatments that are less expensive and less labor intensive however they are also less effective and less reliable. We provide the best chemicals and the most knowledgeable technicians to perform the most successful treatments for our customers. The majority of our customers have made their home or business their #1 investment and we strive to protect their investment.
Suffolk Pest Control Inc. is used by over 80 real estate agents in the Tidewater area. More than 20 of our agents have used us exclusively for 30+ years. We work hard to assist them in meeting their deadlines with quick pre-inspections, WDI-WDO reports, real estate inspections, treatments and real estate closings. We provide free inspections, WDI & WDO reports on their personal residence. They also receive a discount on any treatments to their personal residence.
We Value Our Real Estate Agents!
Suffolk Pest Control is trusted by real estate agents to inspect homes for sale and complete the Wood Destroying Insect (WDI) NPM #33 form and moisture reports for real estate closings.
SPC has eighty-plus (80+) real estate agents who use us exclusively for their homeowner's termite and moisture inspections. SPC technicians are trusted to provide an honest and un-biased inspection estimate accompanied by photos. The photos provide a way to help the agents inform their homeowners of existing conditions that require treatment or repairs prior to the sale of their home.
SPC's policy on repairs is that we only provide the inspection report and we recommend that a licensed contractor provide an estimate of the needed repairs.
SPC gives our valued real estate agents free annual inspections, reduced pricing on pest treatments and WDI & Moisture Reports for the sale of their personal residence.  We do not charge our agents for WDI & Moisture Inspection Reports ordered and completed prior to the cancellation of a sale.
On many occasions, an agent will have a client that needs an immediate service. SPC will do everything we can do to accommodate our real estate agents. We have gone as far as calling a scheduled appointment and asking if it would be possible to re-schedule due to an emergency with one of our real estate agents.
The SPC office staff is knowledgeable with how the real estate market works and how to best server our agents.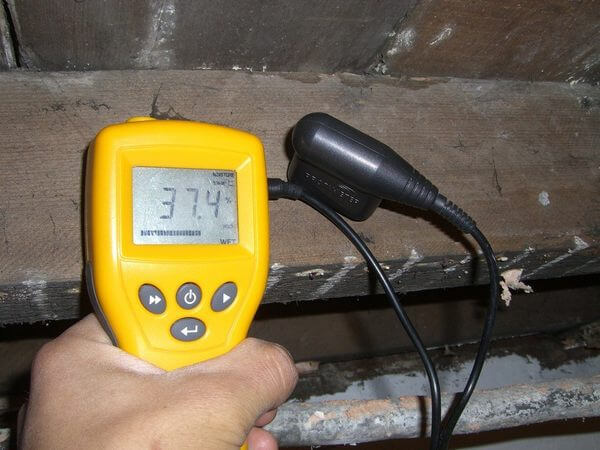 What Do Termite and Moisture Inspectors Do?
If you own a home or business in the South Hampton Roads area of Virginia, it's important to have an annual inspection in order to catch an infestation in the early stages, before damages require repairs. An annual termite and moisture inspection begins by checking the moisture levels within the understructure of your property. This is followed up by a thorough visual inspection.
Nearly 1 out of every 5 homes in the US has a moisture problem caused by water leaks, restricted airflow, HVAC condensation, seasonal saturation and humidity. Excessive moisture in a crawl space without proper ventilation can grow fungi spore within 21 days.
However, one thing many homeowners don't know is that these moisture problems attract termites. Moisture causes wood to become soft and easier for termites to eat.
This is why our professional pest inspectors work so hard to resolve moisture problems. Early detection and control are the best ways to prevent a termite infestation. Once that happens, your repair bills can easily run into the thousands of dollars.
Got Termites? 4 Signs You Need a Termite Inspection
A termite infestation can cause extensive damage, so it pays to have an annual termite and moisture inspection.
I. Structural Damage
The problem with waiting until you see damaged wood to call for a termite and moisture inspection report is that it takes time to show up. Therefore, by the time you call, you may already be staring at a hefty repair bill. Much of the early damage termites do is done deep inside the wood, where you can't see it until it's too late to save the structural integrity.
II. Mud Tubes
You may or may not have seen termite mud tubes. You'll know them if you see them in or around your home, and when you do, it's time to call Suffolk Pest Control and request one of our termite moisture inspections. Termites create these little tubes to travel back and forth from the wood to the ground where they receive moisture. The tubes also protect the termites from predators and keep their bodies from drying out.
III. Piles of Shedded Wings
Yes, you read that right. Termites are well known for shedding their wings in masse after flying in search of a place to form a new colony. They discard their wings, since they no longer have a use for them. If you see a pile of cast off insect wings inside your home, the termites will die within a few minutes as they require soil and moisture to live. The colony underground is the one to be concerned about.
IV. Swarming Termites
If you see swarming termites, call for an inspection immediately. Mature colonies of termites send out swarmers in search of new places to set up colonies, and seeing them usually means you already have a well-established colony living in your home. Termite colonies are known to swarm particularly in spring and autumn.
Termites can be difficult to spot, since they are typically in the crawl space or the wood sub-floor, beams, and joists under the building. There's no substitute for a professional termite and moisture inspection from Suffolk Pest Control. If you suspect the presence of termites, call us today at 757-934-2223.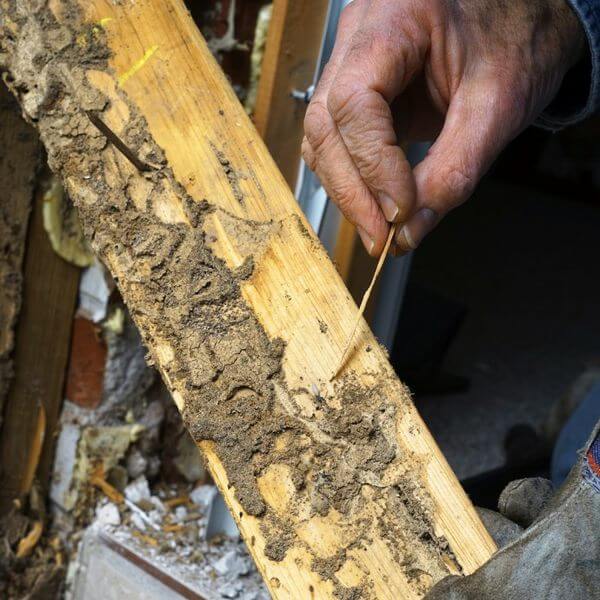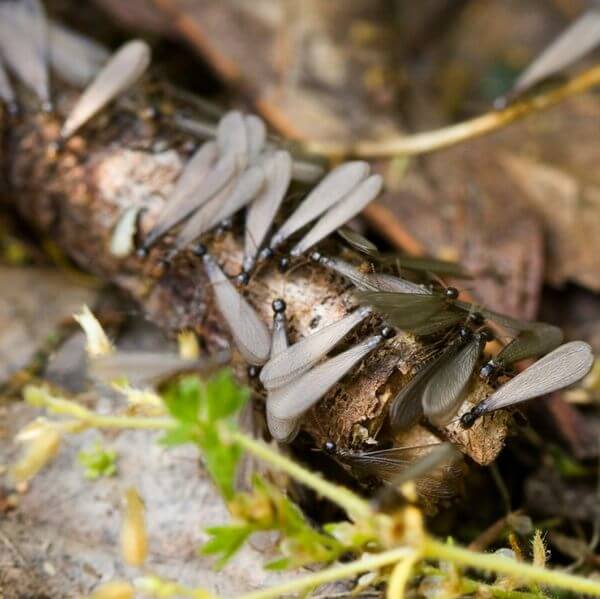 Wood Moisture Content (WMC)
The indicator often used to measure decay problems in a structure is Wood Moisture Content (WMC).  Typically, these readings are routinely included in the closing process of real estate transactions. These WMC readings are usually provided by pest control companies in their termite-moisture reports.
WMC Reading Scales:
Below 12% – Most normal interior wood is in this range. Common to kiln or oven-dried and furniture-grade woods.  Generally represents it is dry.
12% – 16% – Typical reading range for exterior wood. Common to construction and air-dried lumber used in crawl spaces.
16% – 20% – Indicative of an elevated level of wood moisture. This reading should initiate an investigation of finding and repairing the source of moisture.
20% – 28% – Indicative of "border-line" decay and surface mold is usually present. This should be corrected immediately and monitored.
28% and above – Indicative of extensive decay damage to wood.  Signs are  decay or rot in floor joist, sills, and sub-flooring and extensive repair is often required.